Tri-County Patriots for Independent Living affirms Liberty and Justice for all people with disabilities.
A Center for Independent Living that advocates for the civil rights for people with disabilities and promotes living well with a disability in our local community. We are a membership organization of people who live in our community with disabilities and our friends. Our center provides services such as peer support and attendant care. Join us!
---
---
TRIPIL is now an Employment Network. To find out more information about TRIPIL'S Employment Network CLICK HERE!
---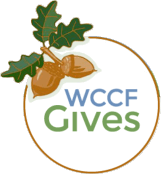 A Day of Giving - September 10th
Please click the Logo above to make a donation or click here
Beginning at 8 a.m. on September 10, all gifts made to participating charities via www.wccfgives.org and all designated WCCF Gives check contributions received on that day will be increased by part of a bonus pool, estimated to be $100,000.
The minimum contribution is only $25, but donors are welcome to give as much and to as many charities as they would like during WCCF Gives.
Share in the excitement of this special event by supporting your favorite local charities through WCCF Gives, Washington County's official community-wide day of giving.
---
TRIPIL Fundraising for Rehabilitiation of Washington YWCA For New Headquarters
YWCA - Click for Updates
Community Relation Plan and Analysis of Brownfield Cleanup Alternative for the former YWCA property
---
"Information IS power, but only when you give it away. Be the givers of power."
Roland W. Sykes
Mentor to TRIPIL, regarding Independent Living Centers, 4/26/2001
Roland's message
to TRIPIL